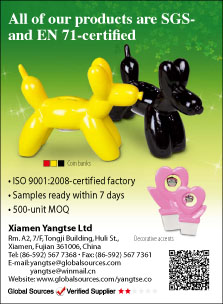 Share:




E-mail

Print

Bookmark
Xiamen Yangtse Ltd

Follow me

2 Star China (mainland)
Product Certifications

Note: Not all certifying agents offer online lookup, and some have a lag time for posting new certificates. If you are unable to find a certificate online, contact the certification agency or supplier for further verification.
More Information
Contact Details




Xiamen Yangtse Ltd
No. 95 Changhong Road
Huli District
Xiamen
Fujian
China 361006
Tel: (86 592) 5677368
Fax: (86 592) 5146718


Homepage Address
http://www.globalsources.com/yangtse.co
Other Homepage Address
www.yangtsegift.com


Chat with supplier using:

Key Contact:
Mrs Lee, Helen
General Manager


Supplier and product information updated December 06, 2013.
Verified Business Registration Details
Registered Company: 厦门元佳贸易有限公司
Business Registration Number: 350206200068201
Company Registration Address: 湖里区湖里大道99号同吉大厦7楼A2座


* In some jurisdictions, company names and addresses are registered in Chinese only.